Where Timeless Craftsmanship Meets Exquisite Design; Thomas William Furniture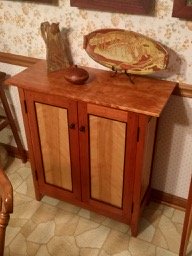 Welcome to Thomas William Furniture, where timeless craftsmanship meets exquisite design. Located in the heart of Georgia, we are proud to have served our esteemed customer couple from the state with our exceptional collection of handcrafted, artisan furniture.

This discerning couple, hailing from Georgia, recognized the value of owning furniture that not only tells a story but also adds an unparalleled charm to their traditional home. They understood that investing in Thomas William Furniture meant acquiring pieces that would be cherished for generations to come.

With each meticulously crafted piece, our skilled artisan, Tom Dumke, poured his passion and expertise into every intricate detail. From the sleek lines of a sideboard to the graceful lines of a solid wood cabinet, our furniture captivated the customer's imagination and brought a sense of warmth and authenticity to their home.

Their investment in multiple pieces from our collection showcases their dedication to quality and appreciation for the artistry behind each creation. Our customer recognized the timeless appeal of our furniture, designed to withstand the test of time while seamlessly blending with the traditional aesthetics of their home.

By choosing Thomas William Furniture, this Georgia customer couple not only acquired masterpieces but also became part of a legacy of fine craftsmanship. Our furniture not only provides comfort and functionality but also serves as a conversation starter, inviting guests to admire the beauty and craftsmanship that goes into every piece.

Whether it's a sideboard, a solid wood chest book case, or a handcrafted cabinet, our furniture captures the essence of tradition while adding a touch of sophistication. It is no wonder that this Georgia customer invested in multiple pieces from our collection, as our furniture effortlessly transformed their home into a sanctuary of elegance and style.

If you, too, seek to elevate your home with artisanal furniture that celebrates the beauty of traditional craftsmanship, look no further than Thomas William Furniture. Join our community of satisfied customers, like our esteemed Georgian customer, and experience the exquisite allure of handcrafted furniture that will stand the test of time.